Fluid-Quip's germ separation liquid cyclone system designs are proven performers and require minimum floor space with maximum production. Our Germ Separation systems are designed to the individual needs of your site. 
With stainless steel, modular components, maintenance is minimal. Cyclone life is extended by spin-hardened stainless-steel construction. Cyclones are easily accessed.  Fluid-Quip quick disconnect couplings – an aluminum and stainless-steel design – make removal and replacement easy. This design
prevents corrosion and binding problems often experienced with other couplings.
Count on Fluid-Quip's experienced engineers to design or retrofit your germ separation system to fit any process requirements.
GS6″ • GS8″ • GS9″ 
DESIGN FEATURES
Cyclones are constructed of 1/8″ thick 316 Stainless Steel that has been work hardened by spinning to insure structural stiffness and long life.
Cyclone Heads are cast in 15-5 PH stainless steel to eliminate cracking prevalent in weld fabricated designs.
Fluid-Quip Quick Release Couplings with Couplings are of aluminum with stainless steel hinge pins to provide strength and durability while resisting corrosion and binding. Molded EPDM rubber seals provide strength and durability. Designed for full vacuum up to 150 psi (10.3 bars).
Cyclones are installed on a 316 or 304 stainless steel support structure designed to minimize vibration and floor space requirements
Each cyclone is installed on the outside of the system for easy accessibility.
Each Cyclone system includes tapered headers and pipe connecting underflow of first stage to feed second stage, permitting single pump operation.
Fluid Quip's germ cyclones can be fitted into many different configurations to suit process needs. Germ Systems are usually fitted with 6″, 8″, or 9″ cyclones depending on the flow rate, and capacity. All capacities shown are average values. Please contact us today for accurate sizing. 
SPECIFICATIONS
316 Stainless Steel process contact parts
150 psi maximum
40 psi pressure drop
GS6″ – Processes 2,000 BPD (51 MTPD) per cyclone
GS8″ – Processes 8,000 BPD (204 MTPD) per cyclone
GS9″ – Processes 11,000 BPD (280 MTPD) per cyclone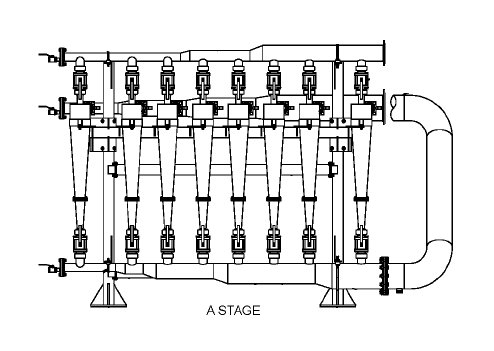 For more information,
contact us today.
Delivering Solutions For Over 30 years
Fluid-Quip has come to be known as a company that provides new ideas and very complete customer support.